STILL READY Premieres in the Bingham Theater at Actors Theater of Louisville May 25-June 4
May 23, 2022
May 20, 2022—Continuing its return to live, in-person programming, Actors Theatre of Louisville's world premiere of new, commissioned work Still Ready runs in the Bingham Theater May 25-June 4, 2022.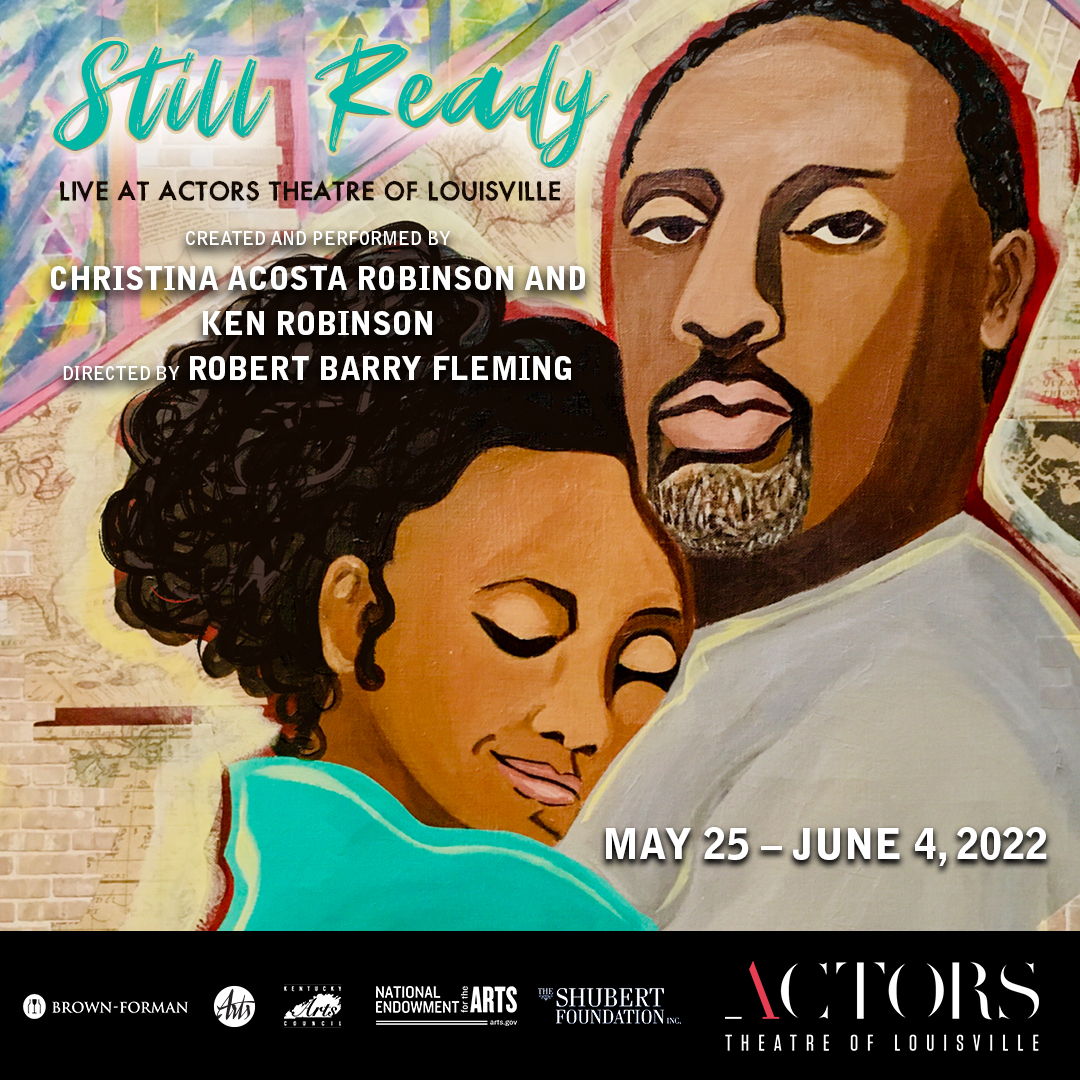 Creative powerhouses Christina Acosta Robinson and Ken Robinson—a married couple who are head over heels for each other and partners in parenthood and art—offer a new work filled with love and music. Still Ready is an electric live production that is fueled by the Robinsons' talents, blending Ken's inspired original songs and Christina's evocative artwork and spoken word poetry. The piece is a celebration of faith, family, and the joy of expansive Black and Afro-Latina artistry.
Still Ready serves as an expansion of the digital offering Still Ready: Originals produced by Actors in May 2021 and currently streaming on the Actors website.
The final product of this evolution demands to be seen live and in person.
Directed by Executive Artistic Director Robert Barry Fleming (Ford's Theatre: Grace) and with the skilled music direction of Victoria Theodore (Broadway: Summer: The Donna Summer Musical, Film: tick, tick...BOOM!, CODA), Still Ready begins with the story of how the Robinsons fell in love while attending the Yale School of Drama. From there, this down-to-earth couple embarks on a romantic storytelling journey full of warmth, joy, and healing as they describe how their relationship has blossomed over time, imparting the tale in their own often funny and touching words. Even in rehearsal, as depicted in the images below, Still Ready serves as the perfect salve for those looking for something uplifting during this challenging time in history.
Upper Left: Robert Barry Fleming directs while following COVID safety protocols in the rehearsal space
Upper Right: Victoria Theodore shows off her skills as music director and pianist
Remaining Photos: Christina Acosta Robinson and Ken Robinson run through the show
Photo credit: Phillip Allgeier
---
The production team is rounded out by Stage Manager Alex Murphy, Assistant Stage Manager Abigail Medrano, Set Designer Katelin Ashcraft, Costume Designer Dina El-Aziz, Lighting Designer Carolina Ortiz Herrera, Sound Designer Paul Doyle, Media Designer Philip Allgeier, Director of Production and Operations Paul Werner, Technical Director Alexia Hall, Lighting Supervisor Dani Clifford, and Costume and Wardrobe Supervisor Anna Jenny, along with originating music direction by Taylor Peckham.
---
About Black Love as Liberation: A Community Conversation
The Community Conversation is an annual event hosted by Actors Theatre of Louisville that brings members of the community together to explore important topics in Louisville's cultural landscape. This year, our event centers on Still Ready as we discuss Black love as liberation in a conversation moderated by Dr. Kaila Story. The event will be held on Thursday, June 2 following the 7 p.m. performance of Still Ready.
Joining us in conversation:
Hannah Drake, Author/Activist 
Minda Honey, TAUNT/Founder
Dr. Brandon McCormack, University of Louisville/Department of Pan-African Studies
Shashray McCormack, Grace James Academy of Excellence/Cultural Humility Coach ​ 
Ken Robinson, Still Ready/Creator and Performer 
Dr. Kaila Story, University of Louisville/Department of Pan-African Studies/Audre Lorde Chair in Race, Class, Gender, and Sexuality Studies
---
Safety Protocols
As we safely welcome audiences into the theater, we are requiring that everyone present proof of completed COVID-19 vaccination or a negative test result within 24 hours of their performance, along with a photo ID, to attend. Masks must be worn properly over the nose and mouth while inside the facility.
---
Complimentary tickets for the press will be available for the opening performance on May 27, 2022 at 7 p.m. Please contact Communications Coordinator Ben Gierhart at [email protected] to reserve. We appreciate your coverage and support as we reimagine a 21st-century theatre where art, technology, and social transformation meet for a storytelling (r)evolution.
---
Supported By:
This project is supported in part by the National Endowment for the Arts. To find out more about how National Endowment for the Arts grants impact individuals and communities, visit www.arts.gov.