Actors Theatre of Louisville to hold In-Person Performances of 'Every Brilliant Thing'
January 19, 2022
[CW: SI, mentions of suicide] ​ 
January 21, 2022- Every Brilliant Thing, by Duncan Macmillan with Jonny Donahoe, will be produced in Actors Theatre of Louisville's Bingham Theater from February 9 – February 20, 2022.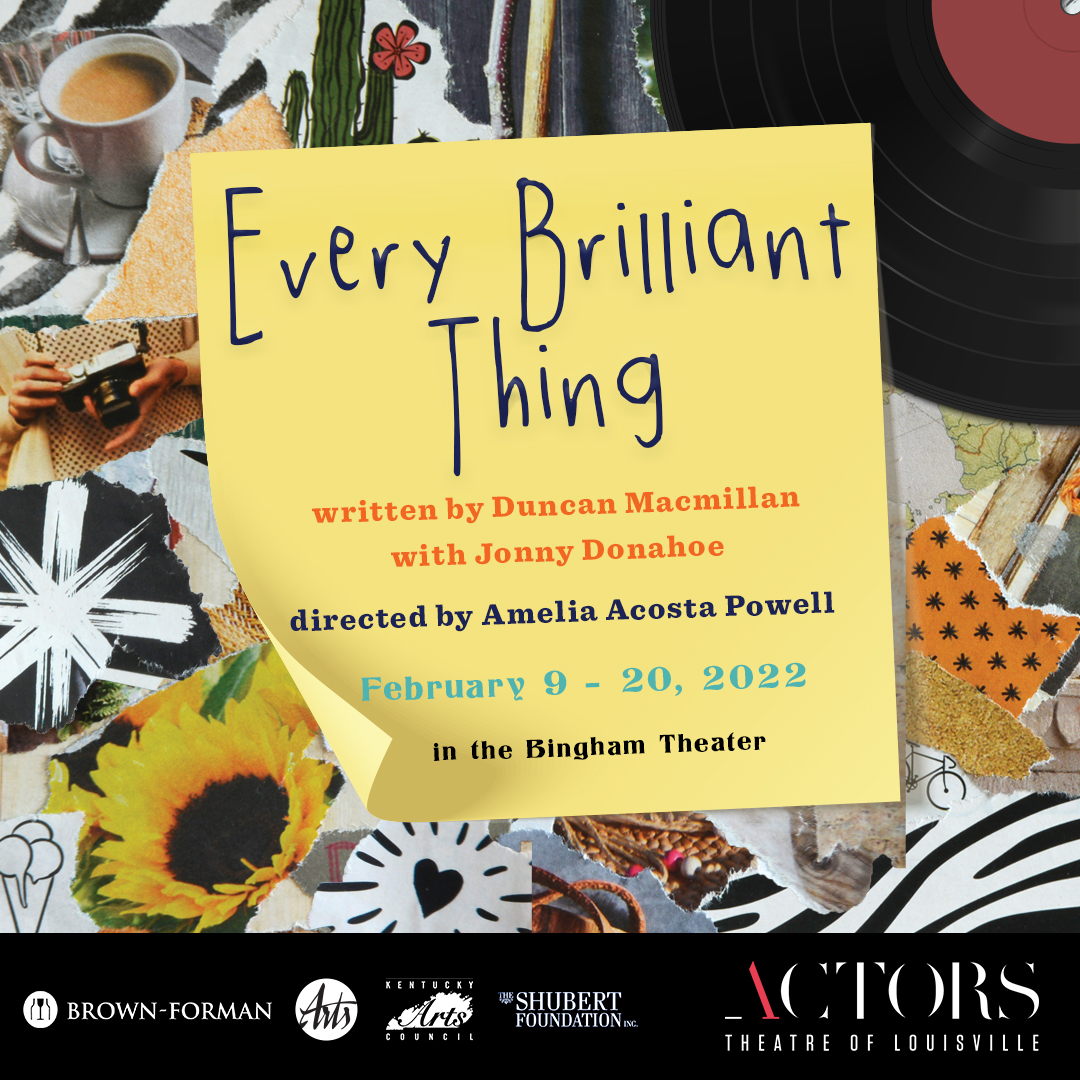 The story features a child who begins a list of '"every brilliant thing worth living for",' after their mother's attempted suicide. As the child journeys into adulthood, the list evolves alongside them. From 1. ice cream to 10,000. waking up late with someone you love, the audience is invited to join the storyteller in reflecting on the simple, wonderful, joyful things that inspire hope even in the darkest times. ​ ​ ​ 
This production is directed by Amelia Acosta Powell, Actors Theatre of Louisville's Impact Producer, a role in which she serves as an artistic and cultural strategist. "This production uplifts and celebrates authentic human connection, so sorely missed amidst periods of forced isolation, and the unique opportunity for compassionate exchange that is experienced in the theater," said Acosta Powell. "The magic in this production will not come from tricks and effects; rather, it will come from dynamic, truthful, spontaneous storytelling." ​ 
Every Brilliant Thing features Jon Norman Schneider, previously seen at Actors Theatre of Louisville in Recent Alien Abductions and Edith Can Shoot Things and Hit Them. This production will also invite moments of participation and improvisation to engage the audience in the storytelling. ​ 
Drawing inspiration from the play, Actors Theatre of Louisville invites the public to help create a list of the things that bring joy and light into their own lives, by sharing a word, phrase, or sentence on the theatre's website. Entries can be added and read here. The list will continue to grow throughout the production. ​ 
Tickets for Every Brilliant Thing will be available for purchase on January 20, 2022 for members, and on January 25, 2022 for the general public. Complimentary tickets for the press will be available for opening night.
Please contact Tabitha Awoniyi at [email protected] to reserve. We appreciate your coverage and support as we reimagine a 21st-century theatre where art, technology, and social transformation meet for a storytelling (r)evolution. ​ 
The production team includes Understudy/Improv Coach Sarah Kirwin, Stage Manager Katherine Nelson, Assistant Stage Manager Nicki Cathro, Scenic Designer Katelin Ashcraft, Costume Designer Anna Jenny, Lighting Designer Dani Clifford, and Sound Designer Paul Doyle. ​ ​ 
 ​ 
 ​